Common
Gutter Issues

Requiring Repair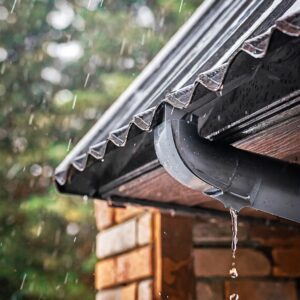 Gutters are important in protecting your property from water damage but can develop various problems over time.  Here are some typical gutter issues that may necessitate repair:
Leaking Gutters
Leaking gutters may cause issues for homeowners since they can cause water damage to your home. Water pouring or spilling from your gutters indicates that repairs are required.
We specialize in repairing leaky gutters at Emerald Coast Roofing Gutter Repair. Our skilled crew will locate the source of the leaks, whether holes, fractures, or broken seams cause it.
To provide a long-lasting solution, we plug the leaks with high-quality materials. We also evaluate the complete gutter system to discover and solve any hidden problems that may have produced the leaks in the first place.
Overlooking leaking gutters can result in more serious issues, such as water damage to the property's foundation, structures, and roof. To preserve your investment, you must solve this problem immediately.
Sagging or Misaligned Gutters
Sagging or misaligned gutters may be a major source of frustration for homeowners. They obstruct the correct flow of rainfall, potentially causing fundamental damage to your property. Emerald Coast Roofing Gutter Repair may assist you if your gutters are sagging or misaligned.
Repair entails fastening and strengthening the gutter system to maintain appropriate alignment and pitch for effective water drainage. We employ high-quality products and processes to produce a long-lasting solution that protects your house from additional harm.
Clogged Gutters
Clogged gutters are a prevalent problem that, if not treated, may cause major consequences. When leaves, twigs, and waste clog your gutters, water cannot flow away from your property efficiently. This might cause gushing water, damaging the home's foundation, walls, and roof.
Emerald Coast Roofing Gutter Repair specializes in removing blocked gutters. Our professional staff will carefully clean your gutters, eliminating debris to guarantee uninterrupted water flow. We will also evaluate your gutter system for any damage caused by the obstructions.
Gutter Holes or Rust
Gutter holes or rust may be a major source of irritation for residents. These problems might cause water leaks, causing damage to the outside of your home and inside.
Ignoring gutter holes or rust can lead to more serious issues, such as structural damage and costly repairs. Don't let these problems fester. For skilled and economical gutter repair services, contact Emerald Coast Roofing Gutter Repair immediately. We'll keep your gutters in perfect condition, preventing water damage to your property.
Downspout Issues
Downspout difficulties can obstruct effective rainfall drainage, potentially causing water damage to the building. If your downspouts are clogged, disconnected, or misaligned, Emerald Coast Roofing Gutter Repair can help.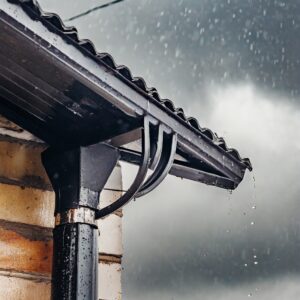 Our trained technicians specialize in quickly identifying and correcting downspout issues. We have the competence to remove blockages, reconnect disconnected downspouts, and straighten misaligned ones.
Improper Gutter Sealing
Defective gutter sealing can cause water leaks, reducing the efficacy of the gutter system. Emerald Coast Roofing Gutter Repair specializes in resolving this issue to keep your house dry and protected.
Our skilled crew specializes in detecting and fixing faulty gutter sealing. We use high-quality materials to guarantee that all connections and seams are securely sealed. This keeps water from flowing and inflicting harm to your property.
Proper gutter sealing is essential for minimizing water intrusion into the property's base, walls, and roof. Ignoring this issue may result in costly repairs down the road.