When deciding on a roofing system, knowing the different types of available roofing materials is essential. At Emerald Coast Roofing, LLC, we offer both asphalt and metal roofing products. Due to its many benefits, metal roofing is an increasingly popular choice for home and business owners. Our roofing team is experienced in installing metal roofing systems. We use only trusted, high-quality materials, including Tuff-Rib panels by Baker Metal Works.

If you are unsure of the roofing material that would best suit you, our professionals will explain the differences and benefits of each. We will walk you through your options and then make a plan that meets your needs.
EXCEPTIONAL ROOFING SERVICES
Emerald Coast Roofing, LLC believes in giving you options. Our team is highly trained and knowledgeable in both asphalt and metal roofing systems, so you can choose the material that suits you. When your roof is properly installed by our professionals, the value, functionality, and safety of your home or business increases. We guarantee that you will be satisfied at the end of your metal roofing installation. If you aren't, our work is not complete. Our team prides itself on exceptional work and customer service, where we prioritize your individual roofing needs.

With our continuous communication, we are sure to exceed your expectations. Protect your investments today and schedule a free roofing consultation with us.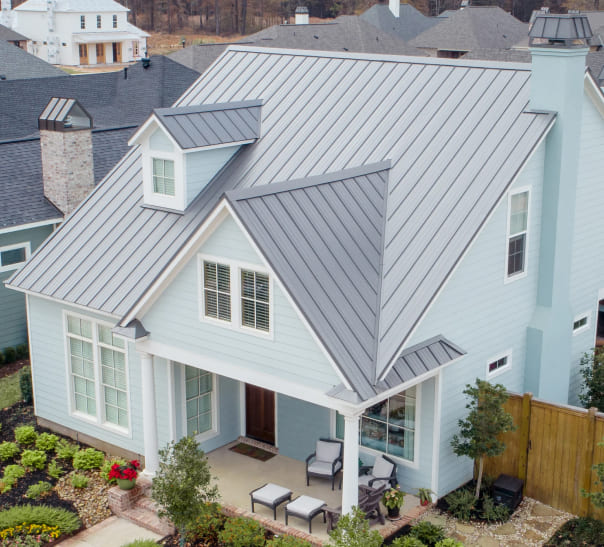 WHY CHOOSE METAL ROOFING?
Today, many people opt for metal roofing systems over traditional asphalt materials. Why is this? When deciding between asphalt and metal roofing, there are several aspects that you want to consider. Understanding the differences in cost, durability, efficiency, lifespan, and style will help you decide on the best material for you. Some of the benefits of choosing metal roofing material include:
Roofs made of metal have a distinct appearance. Metal roofing comes in various panel styles and colors. The look you desire for your home or business can be achieved with a metal roofing system.

Most of the material used in metal roofing is made from recycled content. If the time comes to replace an area of the roof, that material can then be recycled again. Recycled materials are more sustainable and reduce the amount of waste involved in the roofing process.
Metal materials reflect sunlight and heat away from the structure. During Florida's warmer months, metal roofing works hard to keep the area inside of the building cool, reducing energy costs. Metal roofing is also an excellent insulator during colder months, reducing the cost of heating the inside.

When living in Florida, it is essential that you and your family are protected from high winds, rain, hail, and storms. Metal roofing is designed to withstand nature's weather conditions and does not increase the attraction of lightning. Metal roofs often last 40 years and beyond, making them a great long-term solution.
CONTACT US TODAY FOR

COMPREHENSIVE ROOFING SOLUTIONS
CONTACT US TODAY FOR

COMPREHENSIVE
ROOFING SOLUTIONS