We believe that everyone deserves to be safe and comfortable in their home. Emerald Coast Roofing, LLC is dedicated to helping the counties of Escambia, Santa Rosa, Okaloosa, Walton and Bay, FL. Our caring roofers use their abilities to give back to their supporting communities. As a locally family-owned and operated business, we strive to create an environment where everyone can benefit.

The Gulf Coast regularly experiences tropical storms and hurricanes. The damage that these events cause can be absolutely devastating to families, homes, and businesses. Our devoted team has and will continue to offer its roofing restoration services to those who need them. Contact us today to learn more about our community efforts.
EMERALD COAST ROOFING, LLC: HOME OF THE FREE CHRISTMAS ROOF
Kevin and Amy Trusler, owners of Emerald Coast Roofing, LLC is a fully licensed and insured contractor located in Crestview, FL. Emerald Coast Roofing, LLC has a tremendous amount of experience in roofing and construction that is built on family values, quality workmanship, and unparalleled customer service. We take a lot of pride in treating every customer like family. We have a very well educated and highly trained team to help make your roofing project a reality. With Kevin's background in building construction and remodeling, he can identify problem areas at their source so that you get a comprehensive solution. Under Kevin and Amy's guidance, our team possesses the knowledge required to properly install metal and asphalt roofing systems on your business or home.

Our versatility makes us an indispensable resource to the surrounding communities. As head of communication, Amy ensures that everything from start to finish is discussed with you. We guarantee your satisfaction, so our work is not complete if you are not satisfied.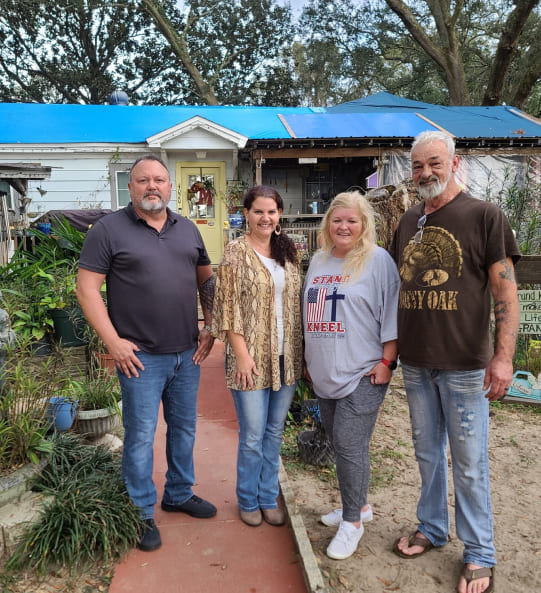 CHOOSE THE ROOFERS WHO GIVE BACK TO THEIR LOCAL COMMUNITIES
Emerald Coast Roofing, LLC is redefining the roofing experience with its passion for its clients, the community, and its team. Under the guidance of our owners, Kevin and Amy Trusler, we have become a vital resource to the Gulf Coast community. We believe that our success stems directly from the success of our surrounding communities. When you choose roofers who care, you can be confident that your roof repairs and maintenance are accomplished with high-quality work.

The safety of your home, business, and community is essential to living your life to the fullest. With our comprehensive roofing services, you can protect everyone and everything you love.